Sign up now, Make more friends, Enjoy with more features, Let you easily Fun Community.
You have to Login for download or view attachment(s). No Account? Register

x

The Nazar is a race only represented by Kaja. In Kaja's story, it is said that they all used electrical whips. They all except their marksman, who was led by Naxet, close friend and loyal to Kaja.

Hero Sheet:

Name: Naxet
Race: Nazar
Role: Marksman/Support
Suggested Appearance: (not my image, found on pinterest)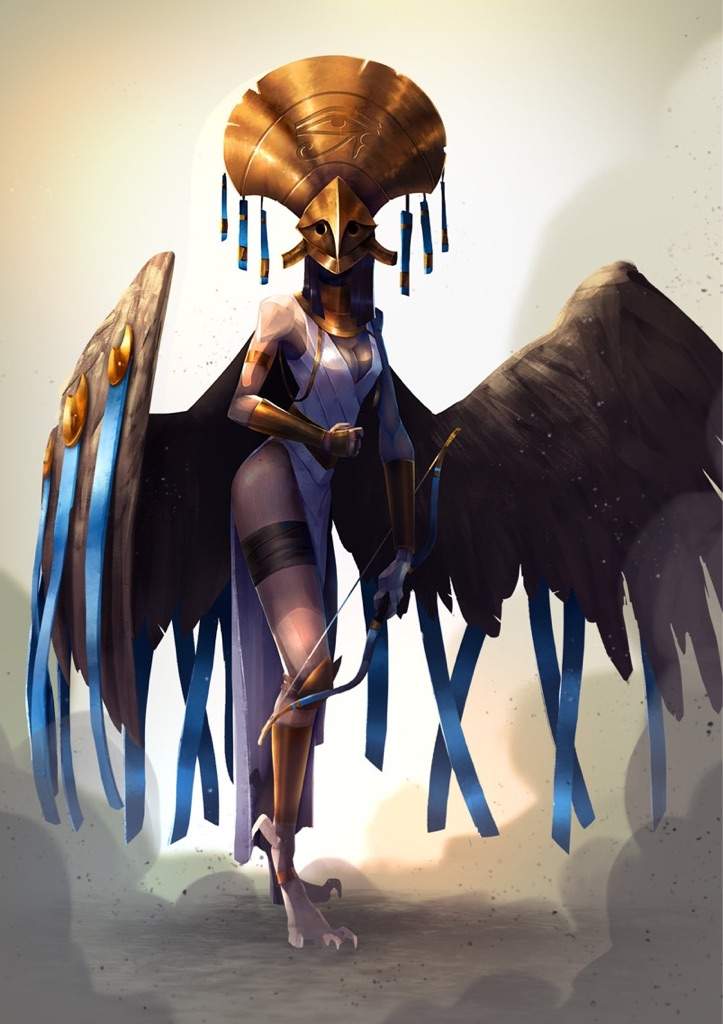 Humand-Bird hybrid with full golden armor like Kaja. Uses a Bow proper to deal with lightning.

Skill sheet:

Passive: Gunner's Wrath
Basic attacks will deal physical damage based on Naxet's total magic power, but they can't deal critical damage. She also converts 100% of Magic Penetration and Magic Lifesteal to Physical Penetration and Physical Lifesteal.


Every 6 seconds, Naxet's next basic attack casts a bolt that deals extra physical damage based on her max MP. The lightning will activate both basic attack effects and skill effects, but cant deal critical damage.


Gunner's Wrath: 80~150 (increases with level) (+6% of Max MP) Physical Damage

Skill 1: Dart of Order
Naxet fires a special energized dart in the specific direction. The dart passes through troops and jungle monsters, dealing damage, but vanishes when hitting an allied or enemy hero.

Upon hitting an allied hero, he will be healed immediately and the dart will mark him. After 1.5 seconds, the mark explodes in a circular electric current around the ally, healing them again as well as all allies in the circle area.

When hitting an enemy hero, they will take physical damage, based on their total magic power, and will also be marked. After 1.5 seconds, the mark explodes in a circular electric current around the enemy, again inflicting damage to him as well to all enemies within the circle.


The dart will activate basic attack effects. Mark explosion will trigger skill effects.

Suggested values:
Dart Heal: 240/260/280/300/320/340 (+80% Total Magic Power)
Mark Explosion Heal: 120/150/180/210/240/270 (+45% of Total Magic Power)
Dart Damage: 240/260/280/300/320/340 (+80% Total Magic Power) Physical Damage
Mark Explosion Damage: 120/150/180/210/240/270 (+45% Total Magic Power) Physical Damage.
Cooldown: 12/11/10/9/8/7 seconds


Skill 2: Lightning Force

Naxet dashes in a specified direction, slowing and dealing physical damage based on total magic power to enemies in her path. She and allied heroes along the way will receive a shield that absorbs 70% of damage, and movement speed bonus for a period, that decays with time.


Suggested vallues:
Base shield: 150 / 250 / 350 / 450 / 550 / 650
Movement Speed Bonus: 30%
Shield and Movement Speed Bonus duration: 2 seconds
Base Damge: 160/175/190/205/220/235 (+30% Total Magic Power) Physical Damage
Slow: 30%
Slow duration: 2 seconds
Cooldown: 14/13/12/11/10/9 seconds


Ultimate: Divine Exaltation
Passive: Permanently increases Naxet's maximum mana by 200/400/600.

Active: Naxet summons the fury of the celestial storm, conjuring a large lighning bolt to hit an area around her that removes crowd control effects for all allies in the area, while also dealing physical damage and stun to enemies in the area. After casting, Naxet will be Exalted.


While exalted, Naxet will have increased attack and movementspeed and basic attack range and Gunner's Wrath (passive) permanently activated. The exaltation will end if Naxet runs out of Mana or its duration runs out. Maintaining the exaltation will cost 6% of Naxet's Max MP every second.

Suggested values:
Damage: 400/600/800 (+95% Total Magic Power) Physical Damage
Stun duration: 1 second
Exaltation duration: 10 seconds.
Attack Speed ​​Bonus: 30/35/40%
Movement Speed ​​Bonus: 10/15/20%
Basic Attack Range Increase: +15%
Cooldown: 55/50/45 seconds.

The idea with her kit is to have a marksman that deals physical damage building magic items (like a reverse Natan), while also having a poking support that can heal, gives shield, remove CC, speed up rotation, apply stun and slow (her passive and skills, all will activate ice queen wand and other support items passives) and is not that hard to play.

Her skill's name were based on Kaja's skills too. Even her "each 6 seconds special basic attack" passive effect is based on Kaja's passive. The cooldown may look high, but she can build magic items, and so build cooldown reduction items.